Friday, May 31 - Sunday, June 2, 2019
A Unique Event for the LGBTQ Community and their allies!
A weekend filled with Paranormal Activity during Asbury Park's LGBTQ Pride festival!
Asbury Park is NJ's hottest town right now with amazing nightlife, an awesome beach and some of the coolest haunts in the country.
Join Kathy Kelly of The Paranormal Museum and Adam & Ben Berry (Kindred Spirits, Ghost Hunters) for a walk on the haunted side.
The weekend will feature investigations at two of Asbury Park's most haunted historical spot, including one famous haunt that has NEVER allowed an investigation before!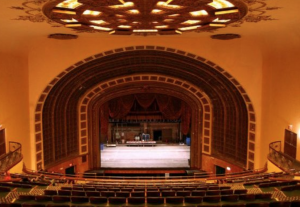 The Berkley Oceanfront Hotel and The Paramount Theater have seen nearly a century of ups and downs, including one of the largest and most deadly maritime disasters in US history.  But in Asbury Park, it is not only the buildings that have activity (and virtually everyone does!) but it is the very land itself.
Starting in 1854 with the Wreck of the New Era, some say caused by the murderous actions of "Wreckers", the very sand is haunted.  When the immigrant ship went down in a major storm, there was no town or city, only the sea, and the sand.  The ship ran aground and settled in only 4 days into the beach.  The ship is STILL there.  80 years later, another ship would come to rest on the same spot with enormous loss of life.  That ship is The Morro Castle.  By that time, both the Berkeley Ocean Front and The Paramount Theater and Convention Hall were there to bear witness.  Some say they did more than that.  Strange specters have been seen roaming both buildings…
But it is not just these two major shipwrecks, but the life of almost 100 years that haunts these buildings.  Come stand on the stage where the legends of old Hollywood once stood and where the  Rock stars of the '60s and '70s made history.  Go backstage with the spirits who loved this place so much they never left..or who don't know they can. from the victims of a fire in the 1950s to a projectionist who took his life on site, the theater is filled with the restless spirits of its past.
The Berkely Oceanfront was the premier resort hotel of its day, but during WWII is did its duty as troop headquarters for US Navy Training.  Young sailors spent their last nights in the US in Asbury park, having fun and getting into trouble.  Some of them, unfortunately, never got the chance to serve their country as the died in an accident right in front of the hotel.  Those spirits are said to wander the corridors and also have been seen on the boardwalk just across the street.   But it's the 5th and 6th floor of the hotel that garners the most attention.  What happened that makes the elevators seem to have a mind of their own?  What is it about that one room on the 6th floor that seems to push people over the edge?  We're going to find out!
Friday, May 31st
7 pm Meet & Greet Cocktail Party get to know your fellow Paranormalists – Light Fare & Open Bar
11 PM Backstage Paranormal at The Paramount (flashlight investigation)
Friday Ala Carte Price $75
Add Chip Coffey Gallery for $50
Saturday, June 1st
1 pm Adam & Ben Berry on being Out & Paranormal!
2 pm Kathy Kelly Collecting the Haunted (includes a tour of The Paranormal Museum)
3 pm Chip Coffey Lecture
4:30 PM CHIP COFFEY Gallery – (Additional $50 charge if you purchase any of the single Day Packages)
7 PM- 11 PM FULL INVESTIGATION of the SUICIDE SUITE and other locations at The Berkeley Oceanfront Hotel (with Adam, Ben and Kathy)
11 PM – AFTER PARTY
Saturday Ala Carte Price $125
Add Chip Coffey Gallery for $50
Sunday, June 2nd
09:30 pm Drag Brunch with Pissi Myles!
11:30 pm Line Up for the Parade
12:00 pm We love a Parade!
1:00 pm PRIDE
Sunday Ala Carte Price $60
Add Chip Coffey Gallery for $50
Special Guests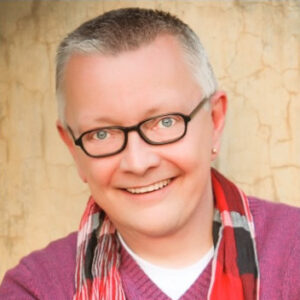 Chip Coffey
We are super excited to announce that Chip Coffey will be a part of Paranormal Pride Asbury Park! Get your tickets NOW for his one of a kind, intimate Gallery Reading. Chip generally does his readings on the phone, but he is offering a rare Gallery Reading for our attendees! This VIP ticket is a $50 add on to ANY Ticket. Seating is EXTREMELY limited!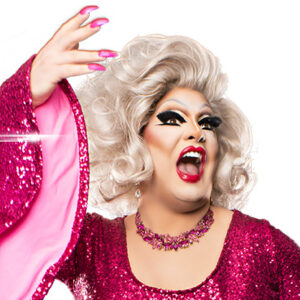 Pissi Myles
Pissi Myles is an accomplished drag comedian, singer, and hostess from Asbury Park, NJ. She is the cycle 4 winner of Philly Drag Wars and was voted Best Drag Hostess in Philadelphia at the Beacon Light Awards. In addition to her weekly shows in New York City, she continues to produce hilarious parodies, like her viral hit single Babashook. She's performed at the legendary Wigstock and has been featured on Billboard, Cosmopolitan Magazine, Mic, Huffington Post, RuPaul's What's The T Podcast, and more! You can find her at her many monthly and weekly shows and guest appearances throughout NYC, Philadelphia, Connecticut, and NJ. – Furthermore, she is decidedly Paranormal!
Hotel & Area Information
There are many great hotel options in Asbury Park, but we have reserved a block of rooms that are on the active floor in The Berkley Oceanfront and have been given a discount for our attendees!  Please use THIS link to secure your discount.
The Berkley Oceanfront Hotel is one of the most historic and haunted locations on the East Coast.  Built in 1924 as a luxury hotel, it is shaped like and X and featured hot and cold running sea water.  The ocean is a stones throw away and can be heard in every room.  Its speckled and haunted past include years owned by the man in black himself, Johnny Cash as well a  the Beatles metaphysical guru, Maharishi Mahesh Yogi.  But it also includes shipwrecks, the great depression, loss and resurgence.  It's story is twisting and dark, but also celebratory.  Like any resort it provided the back drop to joy and fun for some and a last resort for others.
The Berkley has never opened its doors to an actual investigation until now.  You can stay in the block of rooms considered most active.  These rooms have been set aside for Paranormal Pride, but there are a limited number.  Click the picture to book at the discounted rate.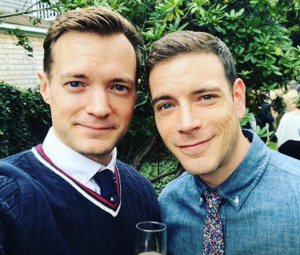 Adam & Ben Berry
Adam and Ben Berry are co founders of Peregrine Theater in Provincetown Massachusetts.  Their great loves have always been music, theater, the paranormal and of course, each other.  You can't be in the same room with these two guys without realizing they were truly meant to be.  Their passion for the paranormal is not new.  They formed  Provincetown Paranormal in 2006 and continue to investigate privately to this day.  Adam Berry has become well known in the paranormal world because of his involvement with Ghost Hunters and Kindred Spirits while Ben continues to investigate in the private sector.  Both have a deep passion for the study of the paranormal on all fronts.  When the idea was raised to do an event for the LGBTQ community both of them were excited because, 'Its almost harder to come out as a paranormalist than it was as Gay!"   Additionally, they are adorable.  I wrote this and they don't know it (Kathy)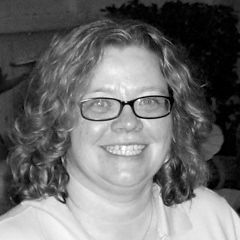 Kathy Kelly
Kathy Kelly has over 30 years experience in paranormal studies.  Listing "Curiositiy" as her super power, Kathy travels the world in search of intriguing stories, customs and experiences.  In 2008 she decided that the paranormal needed a home Base and created "paranormal Books & Curiosities" a place for paranormal pursuits.  Seeing that there was a desire for interaction, in 2009 she opened The Paranormal Museum to showcase her collection of artifacts and to invite people in for discussion.  With close to a million miles of travel Kathy still counts Asbury Park as one of the most consistently active places she has been, "The environment and history is just right here".